At Fukushima plant, a million-tonne headache: radioactive water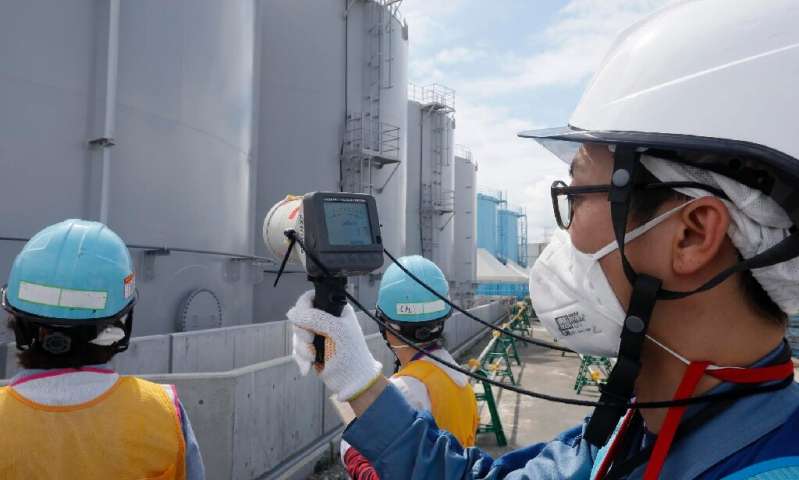 Staff measure radiation levels around the storage tanks of radiation-contaminated water at the tsunami-crippled Tokyo Electric Power Company (TEPCO) Fukushima Dai-ichi nuclear power plant in Japan

In the grounds of the ravaged Fukushima Daiichi nuclear plant sits a million-tonne headache for the plant's operators and Japan's government: tank after tank of water contaminated with radioactive elements.
What to do with the enormous amount of water, which grows by around 150 tonnes a day, is a thorny question, with controversy surrounding a long-standing proposal to discharge it into the sea, after extensive decontamination.
The water comes from several different sources: some is used for cooling at the plant, which suffered a meltdown after it was hit by a tsunami triggered by a massive earthquake in March 2011.
Groundwater that seeps into the plant daily, along with rainwater, add to the problem.
A thousand, towering tanks have now replaced many of the cherry trees that once dotted the plant's ground.
Each can hold 1,200 tonnes, and most of them are already full.
"We will build more on the site until the end of 2020, and we think all the tanks will be full by around the summer of 2022," said Junichi Matsumoto, an official with the unit of plant operator TEPCO in charge of dismantling the site.
TEPCO has been struggling with the problem for years, taking various measures to limit the amount of groundwater entering the site.
There is also an extensive pumping and filtration system, that each day brings up tonnes of newly contaminated water and filters out as many of the radioactive elements as possible.