Development of highly sensitive diode, converts microwaves to electricity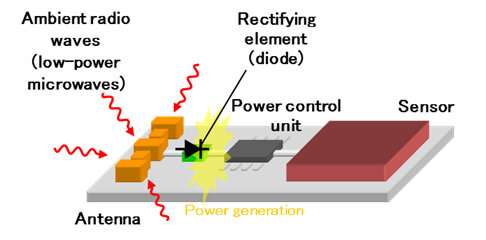 Figure 1. Overview Diagram of Power Generation using Ambient Radio Waves. Credit: Fujitsu

The Japan Science and Technology Agency (JST), Fujitsu Limited, and the Tokyo Metropolitan University announced that they developed a highly sensitive rectifying element in the form of a nanowire backward diode, which can convert low-power microwaves into electricity. Through JST's Strategic Basic Research Programs, the technology was developed by researchers led by Kenichi Kawaguchi of Fujitsu Limited and Professor Michihiko Suhara of the Tokyo Metropolitan University. The new technology is expected to play a role in harvesting energy from radio waves in the environment, in which electricity is generated from ambient radio waves, such as those emitted from mobile phone base stations.
Research Background and Circumstances
In preparation for the commencement of the true IoT era, energy harvesting technologies, which transform the minute sources of energy in the surrounding environment into electricity, have come under the spotlight in recent years as means for creating sensor networks that function without batteries. One such example reuses as electricity low-power radio waves (microwaves), ubiquitous in open space, that are emitted from mobile phone base stations, for use in communications. Equipment used in generating electricity from ambient radio waves consists of a radio wave power generating element, which includes an antenna for collecting radio waves and a rectifying element (diode) that rectifies the radio waves (figure 1).
The responsiveness (sensitivity) of a diode to microwaves largely depends on the steepness of rectification characteristics and on diode size (capacity). Generally, Schottky barrier diodes, which utilize the rectification occurring at the junction formed between a metal and a semiconductor, are used as the diodes for power conversion. Due to rectification characteristics becoming slow at extremely low voltages and the size of elements being larger than several micrometers (μm), however, sensitivity to low-power microwaves weaker than microwatts (μW) was insufficient, and it was difficult to convert ambient radio waves into electricity. This led to a demand for diodes with increased sensitivity.